SurfACE™ Sponge-Stick
The fastest sponge release on the market
Introducing the new SurfACE™ Sponge-Stick for all your environmental monitoring needs.
Easy to use, sterile sampling devices for hygiene verification and environmental monitoring in food production facilities.
What Makes SurfACE™ Sponge-Stick Unique?:
Fast patent-pending sponge release; take more samples in less time

Longest handle on the market; sample hard to reach areas

Environmentally friendly; stick is recyclable after use

No hard plastic left inside sponge; prevents the bag from tearing during transport

12 months shelf-life at room temperature
If you buy 3 boxes, you get one free!
Fill out the form for coupon code to try out the SurfACE™ Sponge-Stick today.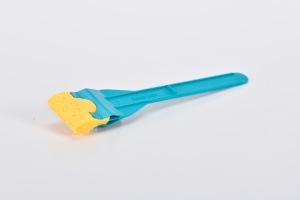 Romer Labs provides a broad range of sampling devices to meet your specific application.
Get all your environmental sampling products from a single vendor
Available in various pre-moistening solutions
Products are irradiated for proven sterility
Option to purchase gloves, sample bags, and swabbing templated separately
---
Want more details about SurfACE™ Sponge-Stick?
Click
HERE
for more information on all options.
---
For a Limited Time Only, register and receive a coupon for

1 free box with the purchase of 3 Romer Labs SurfACE™ Sponge-Stick boxes!